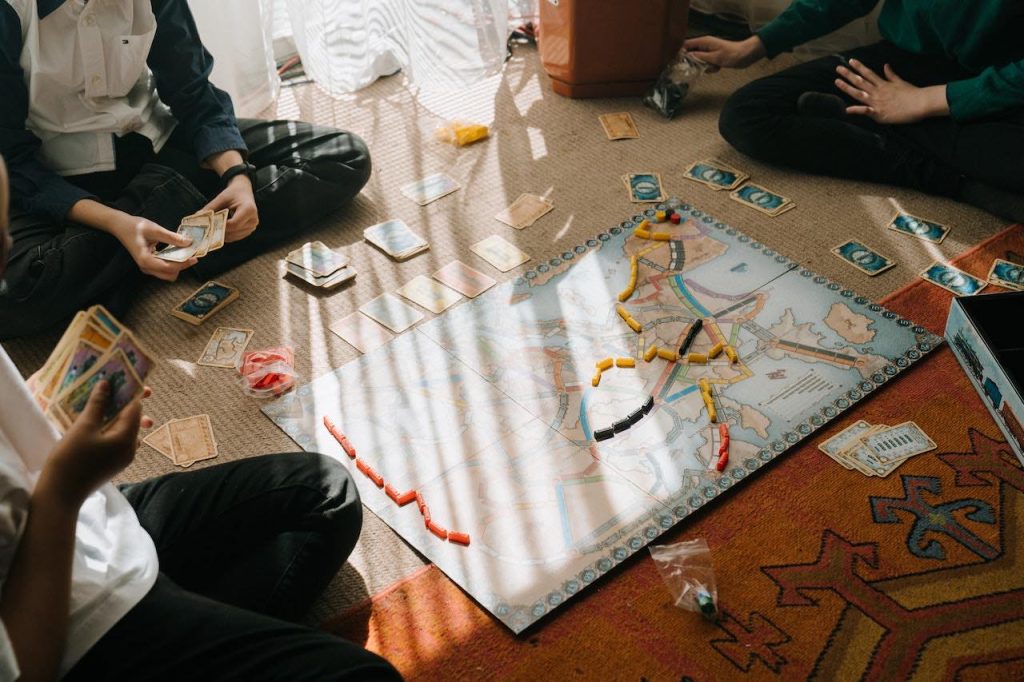 All your friends and family may have a memorable and enjoyable evening by hosting an amazing game night. The ideal game night needs careful planning and preparation, whether you are an experienced board player or are new to the world of tabletop games. You will get all the information you need in this guide to help you arrange a memorable gaming night that everyone will love.
Game Selection
The games themselves are, of course, the center of any game night. Choose a selection of games to accommodate your visitors' varying tastes and ability levels. For bigger parties, think of incorporating party games like "Codenames" or "Pictionary," sophisticated board games like "Settlers of Catan" for die-hard players, and simple card games like "Exploding Kittens" for less experienced players.
Learn the rules of each game beforehand to make sure you have a pleasant gaming experience. Additionally, it's a good idea to include a few fallback games in case any of the activities end up taking longer than anticipated or failing to appeal to the group.
Setting the Atmosphere with Custom Touches
To have an amazing game night, add a touch of class with specially made items. Start by sending out customized invitations to set the mood for a fancy evening of fun. Enhance the atmosphere with carefully crafted decorations that go along with your chosen theme. Bring in custom poker chips, marked with a unique design, to give the gaming table a classy touch. Personalized game boards and cards make the experience even better, showing off your attention to detail. Think about creating special cocktails or a gourmet menu that suits your guests' tastes, ensuring a delicious meal. Well-crafted dice and accessories not only look fancy but also make sure the games run smoothly. These unique touches will make your game night exceptional, and your guests will be impressed with the effort and care put into every aspect.
Snacks and Refreshments
During game night, everyone needs snacks and beverages to stay energetic and satiated. Prepare a variety of finger appetizers, including cheese platters, chips, dips, and small desserts. Provide a range of drinks, including alcoholic ones if your party chooses them, as well as non-alcoholic choices like soda, sparkling water, and fruit juices. When creating your meal, take dietary limitations and allergies into account. You should also include a few healthy snack alternatives. Having a distinct snack table or area may prevent spills and crumbs from landing on the game table.
Game Rules and Teaching
It is your duty as the host to inform your visitors of the rules of each game. To make sure everyone is familiar with the gameplay, begin with a quick explanation and then lead participants through one or two practice rounds. Learning a new game might sometimes be a little daunting, so be patient and willing to ask questions. Consider printing up rule summaries or distributing reference sheets to participants for bigger or more complicated games. Keep in mind that the main objective is to have fun, therefore fostering an environment where everyone feels welcome to ask questions or for help.
Game Rotation and Scheduling
Plan a game rotation to keep the enthusiasm up and minimize exhaustion. You may break players into smaller groups and conduct many games simultaneously, depending on the number of visitors and games available. Each game round should have a time restriction, with intervals for conversation, snacks, and resting in between. Make a timetable that contains the timings for each game, taking into account the need for transitions and time for explanations. Being adaptable is important, so be ready to modify the program under the group's preferences and the course of the evening.
Prizes and Rewards
Consider adding awards or prizes for the victors of each game to increase the excitement. These might be as simple as little awards, diplomas, or even humorous titles like "Game Night Champion." Recognizing and applauding the victors gives the evening a competitive edge and promotes friendly competition. You may exclude formal incentives if you want a more relaxed environment and concentrate more on having fun with the activities. The ultimate objective is to make everyone's experience joyful and unforgettable.
Conclusion
Finally, organizing a fun game night is a great opportunity to spend quality time with friends and family. You can create a memorable gaming experience that will keep everyone looking forward to the next game night by picking the correct games, establishing the right mood, offering snacks and drinks, clearly explaining rules, controlling game rotation, adding incentives, and being a kind host. Prepare for a night of fun, competitiveness, and friendship by gathering your games, inviting your guests, and setting the mood.